Our liveticker can be found HERE!
Monday, 28.10.
Today there was a press conference and we thank you for the lively interest in squatting and the "Squatting Days".
Event note for tonight, 19h in Kyosk at "Im Grün":
Matriarchic Monday by femBPM
The feminist DJ collective* femBPM on decks – with changing genres, slow and fast beats, with and without lyrics, but always against patriarchy.
++ We wish ourselves a respectful and good togetherness – so please pay attention to your own limits and those of your fellow people*! ++
Sunday 27.10
Hello, here is a short update from Sunday.
On Saturday even two people were allowed leave by the police without giving personal details. Furthermore it's especially remarkable how one person in the Kronenstraße could escape the cops again while there were many of them and SEK. If they wondered if there were more on the roof at the beginning than in the GESA, they probably didn't expect the "Punk im Schrank" (punk in the wardrobe). Or maybe the Kronenstraße is also connected to the tunnel system to the Hambi, who knows?…
On Sunday there was Cornern at the holy cathedral and in the Stühlingerpark, where the Cops unfortunately regularly carry out racist controls.
At an open plenum we reflected a little bit and reviewed the past days, but we are curious what will happen in the future…
Sunday, 27.10
15:00 Die Cop's und die Secus finden die PoWa und die Kronenstraße doch ganz attraktiv – haben sich vor den Häusern ein Wohnmobil und Kastenwagen eingerichtet und lungern rum! Ach? Gibt es doch nicht genügend Wohnraum für Alle oder was?
12:00 Cornern im Stühli! 20-30 Menschen ohne einen Platzverweis der Innenstadt verlängern das Frühstück im Stühlinger Park. Keine Cop's zu sehen, gute Stimmung. Kommt dazu!
Saturday, 26.10.
21:30 The concert of Arbeitstitel Tortenschlacht will take place in the KTS later on!
21:25 All activists are free, one person also without giving the ID. The others got a ban for the city centre, or if they live in the city house arrest.
20:35 An activist has heared, how a person of color was abused in the police station. Then the person was dragged past the activist's cell, his hands and feet tied, his upper body naked and bleeding in his face. Is that everyday life at "Revier Süd"?
20:30 8 persons from the Kronenstraße are free now, but there are still some inside
Arbeitstitel Tortenschlacht will make their concert at 21:30 in front of the GESA
18:00 Another person escaped the claws of the repression institutions at Revier süd
17:40 programme for today's evening
18h Workshop: Radical Cheerleading at Grethergelände
19h30 Film and discussion: "Deckname Jenny" at KTS
17:30 The three persons that were arrested today before the squat are free, but have been banned from the city centre until tomorrow evening 12pm. Otherwise they are threatened to be arrested with a court order.
17:30 Currently there is a city walk in the context of the critical introduction days at the university: The matching city walk to your completely absurdly high rent. Attractions: The villa of real estate capitalist J. Sauer, luxury "renovated" residential areas, vacant villas, and Freiburg's right-wing most extreme fraternity.
17:15 3 persons from 16 arrested persons are free now
17:13 One person, who was arrested in front of the police station, is out again, but has to stay at home untill tomorrow at 12pm  (house arrest)
16:25 All persons, that wait in front of Revier Süd got a sending-off from the street and are drangsalised and filmed by cops. No criminialisation of "wauíting for people"!
15:59 No support at Revier Nord, many cops
At Revier Süd, there are many people and good mood. It's not completely clear how many persons are inside
15:30 One person from Gesa-Support was arrested
15:14 Police is in contact with a judge. For 3 persons they annouced detainment till 5pm. All persons in the house are arrested and one press person!
14:53 police takes photos of masked persons with digitalcameras. The Police Freiburg has taken down their badges, so they won't be recognized
14:40 last person was taken from the roof
it's unclear what will happen with the ~10 persons
14:31 One last person on the roof- sek around, don't know what to do
14:27 SEK is on the roof. people are shouting
14:21 SEK close to the people on the roof. They destroy things they pass- maybe they are bored
14:19 In front of the house is a lifitng plattform
14:18 People made a blockade infront of the house, police pushed them away. SEK is inside the house
14:10 SEK is there, supportis have been hitten away
14:04 cops linger at the petrol station at the tramstop "Reiterstraße"
13:47 Cops leav at "Revier Süd" with lifting platform
13:46 the person is brought to "Revier Süd"
13:28 One person ran through the police line and is now getting arrested. Police lines on the right and left from the house. Mood is perfect, music is there as well. ~50 supportis are there
13:22 Workshop 'Let's talk about gender, baby. Kleine Einführung in Feminismus, Gender & Antisexistische Praxis' von ignite! findet heute 15 Uhr in der KTS statt. Kommt vorbei oder unterstützt die akut räumungsbedrohte Besetzung!
13:12  SEK prepares on the backyard in the Heinrich-von-Stephan-Straße
13:03 drone flies back to "Revier süd". It's likely that the SEK operation will be started from there.
13:01 a drone was flying over the roof. police checkt the garden. sek is preparing in a street nearby. seams like the eviction gonna be soon
12:49 Black Mercedes Benz FR PQ 889 with political police and another black van with police. Zivis are hangig arround. More people are coming
12:35 SEK is preparing at the police station south
12:18 2 cop cars, 6 vans- we can't gues right now, what they plan to do. People are shouting
11:59 30 people infront of the house, the road is blocked by the police
11:35 3 people are at the police station south, close to the squatted house. People have been sent off until 4 pm- what does this mean..
11:16 3 police vans with flashing blue light arrived. Police went out. Supportis which have been sent off and went close to the balkony have been arrested
10:00 People on the roof have seen how supporters on the other side of the road have been sent away.
09:28 People inside and on the roof are fine. there is no police, but one civi car. It's possible to go in. People wish support from outside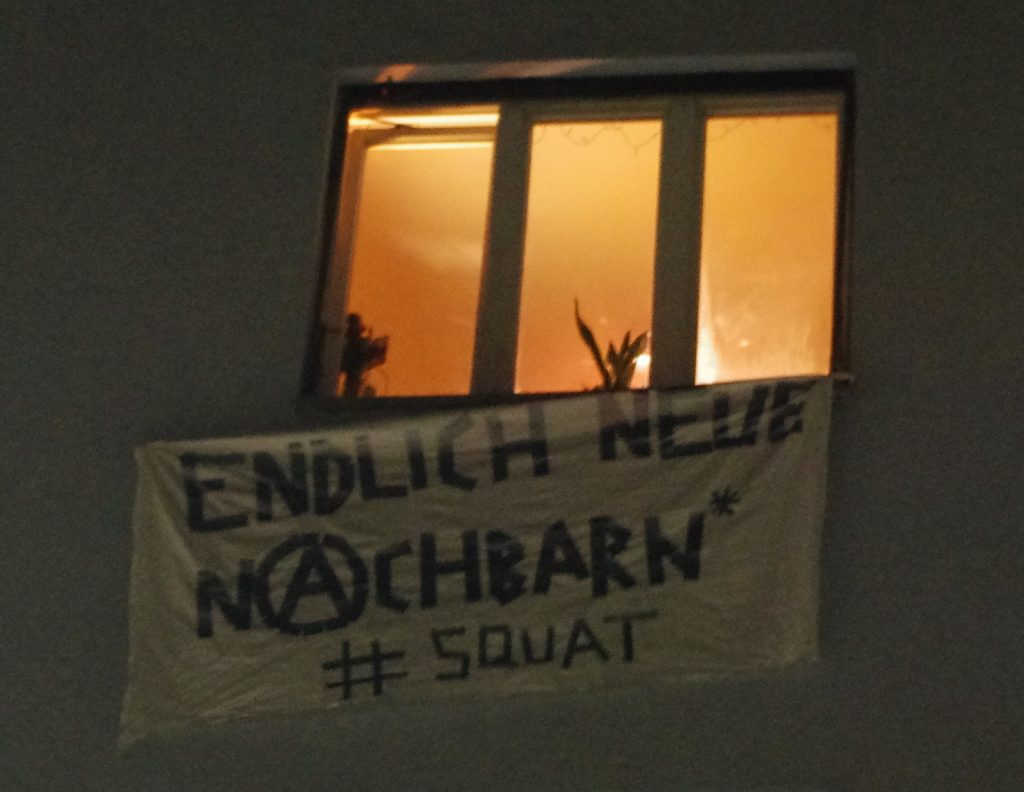 04:15 Soli-Transpi from opposite "Finally new neighbours* #squat" – Thanks <3
to keep it that way it needs your solidarity! Come along, bring food, blankets or just yourselves and be there tomorrow morning! For breakfast in front of the occupied house or already in the next hours.
Not that the police or the SEK are clearing this secretly. Be there, show solidarity, bring things with you and stay creative. Occupations live from the support they receive!
02:06 There are no cops and the street is not blockaded anymore- traffic starts again
01:50 Nabours fixed a banner at their house, on which it is written, that they welcome their new nabours 🙂
01:48 Information from inside: it is beautiful and relaxing. The nabourhood is nice and donated a mattress. It's possible to go in. They are happy about visitors, food and blankets
01:39 There are not so many cops anymore, just one car, no kettle. You can pass by bike without beeing controled. There are still people inside and infront. They wish support
00:42 Police consfiscated and kettled dinks and the soundsystem until tomorrow. People want to party, but there is no music… and the wish support- blankets and snacks
00:25 The police confiscated beer
00:12 People got ID controle in a street near by- Take care of each other! Last song of the band
Friday, 25.10.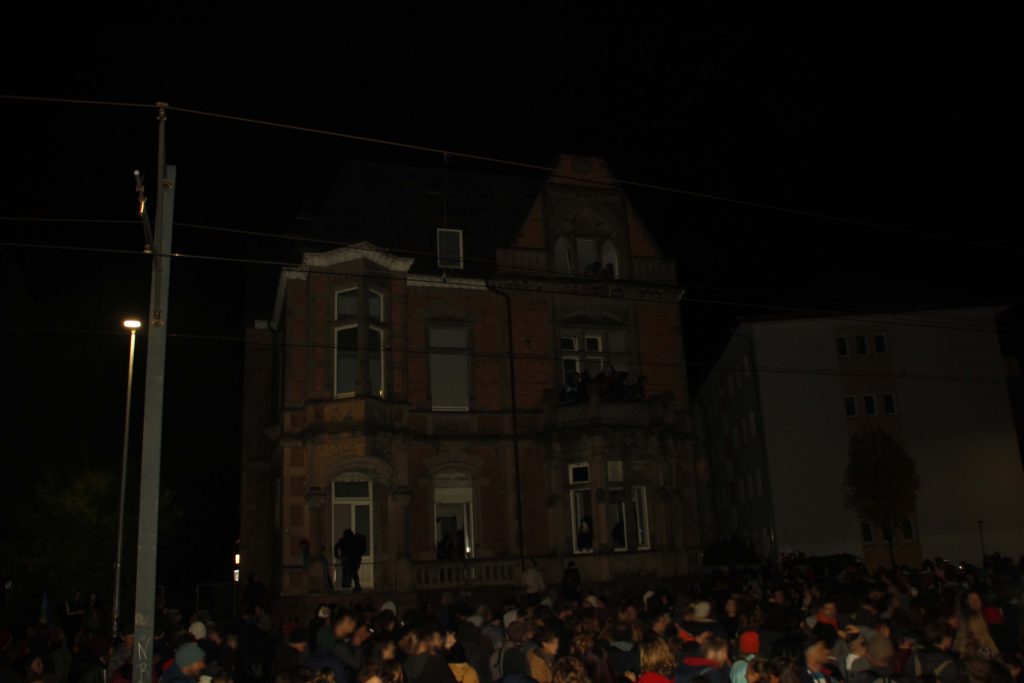 23.44 The band is still playing. cops are not in front of the house, but at the street close to it
23.05 People are on the balkony, a sambaband is playing
23.00 Kronstraße 21 is squattet. The party is going on. Come around!
15:30 Today there is the dance-demonstration against repression and surveillance. It starts at 6 pm at the Stühinger Kirchplatz
Thursday, 24.10. The ticker was not working. We are sorry for that. Now it is running again 🙂
Wednesday 23.10
19:15 Tonight there was a radio broadcast on Squattingdays at Radio Dreyeckland
rdl.de/beitrag/nutzungsideen-mangelt-es-nicht
19:30 the programm for today's evening:
20:00 Lecture with book presentation "Künstliche Intelligenz – digitalisierte Fremdbestimmung" (machine intelligence – digitalised heteronomy) with the author collective Capulcu (EA Freiburg)
21:30 Konzerte: DR MOKSHA (indy), Hedvig (Metal), Blank! (Punk/Hardcore), Sound of smoke (rauchfrei)
22:30 Film+Diskussion "Verdrängung hat viele Gesichter" (extrusion has manyfaces)
Tuesday 22.20
19:20 article sur le manifestation contre LITEF GmbH à Fribourg
https://de.indymedia.org/node/41860
18:30 This evening a lecture takes place in the context of the autonomous culture week in the KTS around 19Uhr to the conditions of the things in the procedure around http://linksunten.indymedia.org in the KTS. After that there will be a concert at 9 pm with Fruits of Wrath and 11 pm with Hadji Ahmed+Boom.
16:15 audio of the concert by David Rovics in the squat Gilgenmattenweg 28 last night
13:30 The manifestation in front of the weapons exporting company Northrop Grumman LITEF GmbH at Löracherstraße 18 in Turkey is in progress. Stop the war in Syria! Solidarity with Rojava!
6:34 The last person is free again
4:55 One person is free again
03:50 2 Persons are beeing brought to the south police station, probably for ID-control.
03:28 6 people outside, personal data control, photos and searches, after that the people are released on the spot, 7 people are still in the house. We wish you much strength and warmth! Show solidarity, support the people from the house.
02:43 People will probably be brought to the gesa soon, as soon as we have more information about which one we will tell you. Get ready for a night shift in front of the gesa, people need suport!
02:24 People hear loud dog barking noises and beating of the battering ram, it looks like eviction. Come around if you are still awake, people need suport urgently
01:20 What a nice house… Some neighbors informed us, that another house next to this is also empty for a few years. let's have a neighborhood of two squars 😉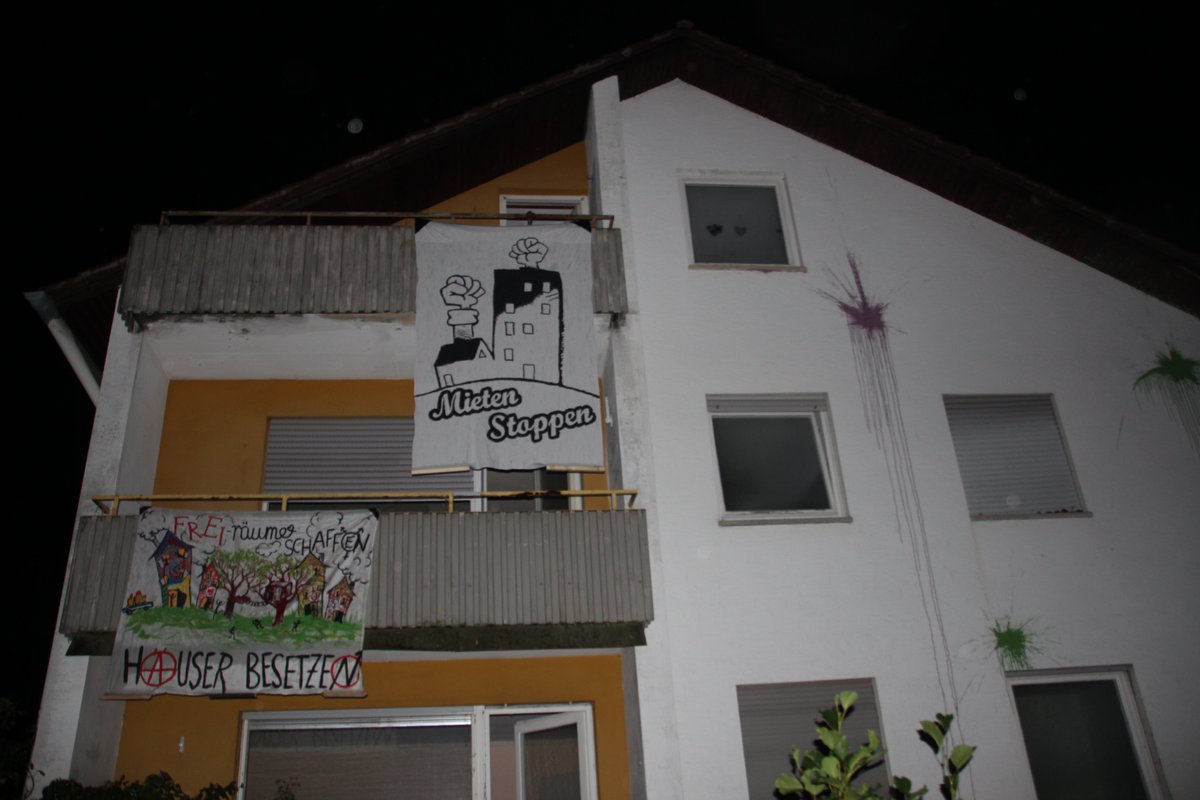 00: 47 cops are protecting the house, but are not inside still. The squatters will stay over night
00:18 people outside are sent off, people are fine inside
00:16 Press is there. 10 big cop cars, also with dogs. Again the two black busses from yesterday
00:02 The mood infront of the house isn't so good anymore. Cops are coming with a battering ram and the at least ten last supportis can't see anything anymore.
Monday 21.10
23:59 Wrong information. Cops did not entered the house, they tried a bit but did not received.
23.42 Cops entered the house and put all supportis apart.
23.17 Cops kettled people in and outside of the gilge28. Nobody comes in or out.
23.10 Four police vans in front of the house and a dog. It is still relaxed. Supportis nearby the house.
23.00 The concert is going on. There are 50 people inside with candles
22.40 There will be a concert of  David Rovics soon. Take your umbrella, come and enjoy
22.23 The Gilgenmattenweg 23 (Weingarten) is squatted. Come around!
17:20 The second person is free as well. Both persons are free!
16:42 One person is out of detention!
16:10 evicted persons were brought to "Revier Süd" in "Heinrich-von-Stephan-Straße" Would be cool to go there and be loud.
15:20 Eviction of POWA Now! SEK took the squatters from the roof with help from the fire brigade.
15:15 About four civil cops there and cops are getting more and five cop-cars were seen at the firefighter station at Eschholzstraße on the other side of the river.
15:10 Pressperson from the cops arrived and also Hochuli the head of operation. Next to that SWR (media) are preparing. Probably the evict soon!
Ho Ho Hochuli 😛
14:20 Sources said that SEK is still checking the Drone images, but probably they still need a while. About 20 people infront of the house. Come around and tell your friends, so that eviction can not happen uncontradicted.
14:10 SEK has taken a look on the Drone images and has driven away again.
14:00 The eviction seems to be close before. Come along and bring your friends!
13:50 Black transporters with car sign from Böblingen are there and masked Cops mit green and grey uniforms (probably SEK)
13:30 Situation is chilled. So let's go to some programm planning: At 3pm there is a feminist city ralley starting at G19, there will be a fotoexhibition, coffee and cake! At 7pm there will be the final ceremony and Vokü at KTS and afterwards many workshops and lectures. The programm can be found here and here!
12:40 Situation is calm again. Less cops than before. Civil cops returned to Police station south.
12:00 More cops, using a drone. Support needed.
10:55 Four cop cars and around ten people for support plus people in the house. Press is here, also interviewing police, wich can't tell any eviction plans. They might try in the afternoon. Be prepared. We stay!
10:20 Cops observe the situation in front of the house. We appeal: don't go trough the propety of the kindergarten next to the house. They did when we squat the building the first time and scared all the kids.
09:55 We are still there. We had a good sleep last night and breakfast was delicious. The press is in front of the house.
07:50 There are more people (about 20) infront of the house and some on the roof. The kindergarden nex to the POWA is open right now. Last time they evicted from the garden. We will infom them, so that the children are not to scared
07:10 There is food and coffee infront of the house. The people inside slept well. Cops are there. The police said, that they want t evict before sunrise- it's already late… Come to support the squatting!
00:08 Most cops have retreated and the squatters make themselves comfortable. Tomorrow morning, support is desired – like already really early! and if you can throw things quite well – the people on the roof are happy about some flying food;)
Sunday 20.10
23:17 Police makes an announcement and threaten to evict the building with force. Activists* on the roof are supposed to be allowed to leave if they give personal details. No reaction. People in front of the house are asked by police to move away from the house and turn off the fire barrel. Estimated 35 people in front of the house. There is no prospect of evacuation yet.

23:00 A few pictures from the POWA!
22:20 Activists don't make it easy for the cops to come through
https://twitter.com/RDL_Aktuell/status/1186013957288534017
21:30 There's a first interview with people at the POWA on RDL (Radiodreyeckland)
twitter.com/RDL_Aktuell/status/1185987361710247942
21:05 The fire brigade is there as well, one police car drove into the backyard. Mood is still good and chilled, music, food, cops are nerving.
20.45 Uhr: The mobile Vokü has arrived (food!). Without food, no fight!
20.30 Uhr: About 100 persons are there, many of them from the neighbourhood. 5 persons can be seen on the roof. police in front of the street and closes the road.
20.03 Uhr: Police has two two dogs with them. Cops are filming. About 15 Riotcops.
20.00 Uhr: A bigger police car and a prisoner transporter have been seen. Cops take on their clothing.
19.55 Uhr: Two eviction cop cars arrived, about 10 cops of them nudge persons in front of the house.
19.50 Uhr Cops try to close the entrance. People on the roof! 40 people in front of the house, two cop cars with lightsignals. "Ohne Helm und ohne Knüppel seid ihr nichts" is called.
20.10 19.40 Uhr The POWA (former policestation in the Fehrenbachaallee 52) is squatted again! One cop car and many supportis are there. People are shouting "Besetzen,halten, Wohnraum gestalten" (squat, keep, design living space). Come along and bring your friends!
20.10 17 Uhr: open meeting starts soon
20.10 02:30 Today the office of the "Stadtbau" was attacked with "coloreggs". With that action, some "concerned citizens" wanted to show the failure of the cityplanning of the city of Freiburg. The institution "Stadtbau" is one of the institutions responsible for rising rents.  14,50€ for one squaremeter?!
Do squat, be reasonable!
Friday 18.10
The legal team phone for the SquattingDays Freiburg ist now available and reachable.
The Legal Team SquattingDays's nummer is: 0049(0)761 4097251
18.10 16:30 Our infopoint is open and we're looking foreward to welcome coming guests. Next to that the kitchen is getting ready for the evening and all of our structures are getting ready.